Exploring the rich opportunities of
REGENERATIVE THINKING
IN ACTION
Level up YOUR impact in the
sustainability game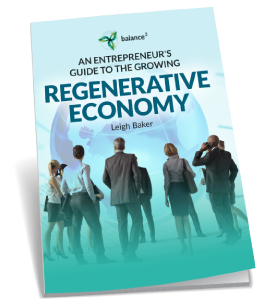 Don't miss out on all the fun!
Download your guide so you can start scanning for your next career or business adventure now.
"We're in the early stages of a technology-led sustainability revolution with the scale of the industrial revolution and the speed of the digital revolution"

Al Gore, 2018
A whole world of opportunity is on the table…
Most people don't see it – mostly because they don't know where to look.
So they miss out on the solutions we have today and their wealth of business, career and community development opportunities.
To find YOUR opportunities it's much faster and easier if you know where to look.
I've been exploring the world of solutions as a supply chain consultant, a business coach and a sustainability blogger since 2002. Along the way I've built up a business library on high impact solutions and their enablers.
That means you can access three key knowledgebases on regenerative business today:
Regenerative Business Design Principles
Regenerative Business Happening Examples
Regenerative Business Enabling Tools
And if you're already suspect that you're missing out on a world of high-impact opportunity, then keep scrolling.
Stories of key trends and how they're happening in the world…
10 key regenerative business strategies explained in business terms – straightforward principles AND cool examples…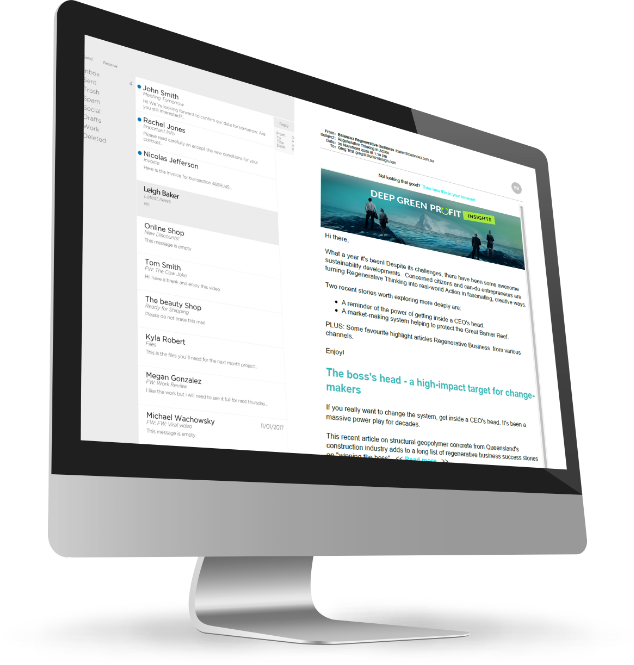 Get the Deep Green Profit INSIGHT emails in your Inbox
Do you want a structured, timely, SME-friendly introduction to Regenerative Business?
I've turned two decades of exploration into a FREE 6-week, 12-part email course on how to uncover DEEP GREEN PROFIT opportunities for your business.
Ready for real action today?
Because you want to make more impact, faster?
If you're ready for more than DIY reading, then talk to me about a 1:to:1 REGENERATIVE THINKING IN ACTION coaching and mentoring program.
I know HOW to help you find your "thing" – because I'm an experienced Ontological Coach, an NLP Practitioner AND a highly knowledgeable Supply Chain consultant.
That puts you on the fast track and helps you explore for your best opportunities.
Take the next step in your next business, career or community development journey – and turn it into and adventure in regeneration.
Many people have more time for listening than for reading…
I've started putting my ideas into audio on a podcast.
Search for REGENOMICS DOWN UNDER on your favourite podcast platform and subscribe today.
It's has a focus on local solutions and regional development – because there's WAY more happening outside the global north than most people know.
The REAL inconvenient truth is that we're an inconvenient SPECIES..
The truth about multiple looming environmental catastrophe has been in the public domain for 50 years – yet less than 1% of the human race is engaged in solutions.
It's frustrating when the solutions are SO GOOD – and make the world better TODAY.
Knowing how to use the latest innovation delivery tools will grow your career or business today AND enable you to do more regeneration, faster.
Some people just want a little "Leigh magic" for their messaging…
I still help a select group of clients develop their messaging strategies, online content and web copy.
If you'd like to leverage my 30+ years of business writing, experience then check out my offer at words4websites.com
Here's a radical idea – you could always TALK to me…
What's the point of having a global Internet if you can't get in touch when you have a question to ask or an idea to explore?
Especially in a decade where the demand for regenerative business is bigger AND more urgent than ever before.
So I offer a free online exploratory session.
No pressure, no obligation. (Also, no catastrophe, no blame/shame.)
Just a friendly chat to see whether the regeneration game offers high-impact opportunities for you, today.
I'm on these social channels if you'd prefer to reach out that way: